Our company is not connected anymore with RE/MAX and in anyway. Please read our Press Release.
Το παρακάτω άρθρο μπορείτε να το "κατεβάσετε" ολόκληρο και σε μορφή pdf, απλά συμπληρώνοντας τα στοιχεία σας στο τέλος της σελίδας. Επίσης, μπορείτε να δείτε και το video ετοιμάσαμε για εσάς.

Οι τάσεις της αγοράς ακινήτων στην Ελλάδα σύμφωνα με την πανευρωπαϊκή έρευνα της RE/MAX Europe για το 2022
Παρά τα πολύ υψηλά ποσοστά ιδιοκτησίας  – ιδιοκατοίκησης στην Ελλάδα (71%), η επιλογή της ενοικίασης φαίνεται να αρχίζει να κερδίζει σημαντικό έδαφος. Το 25% όσων σκέφτονται το ενδεχόμενο μετακίνησης – μετακόμισης μέσα τα επόμενα πέντε χρόνια, κινούνται προς την κατεύθυνση της μακροχρόνιας μίσθωσης ενός διαμερίσματος, ένα ποσοστό μεγαλύτερο από το διπλάσιο του ευρωπαϊκού μέσου όρου. Ένα επιπλέον 8% αναζητά να νοικιάσει ένα διαμέρισμα και ένα 7% την ενοικίαση μιας μεζονέτας ή μονοκατοικίας για έως 3 έτη. Μόνο περίπου το 1/5 (20%) ψάχνει να αγοράσει ένα σπίτι, σε σύγκριση με το 34% που ισχύει στην Ευρώπη στο σύνολό της.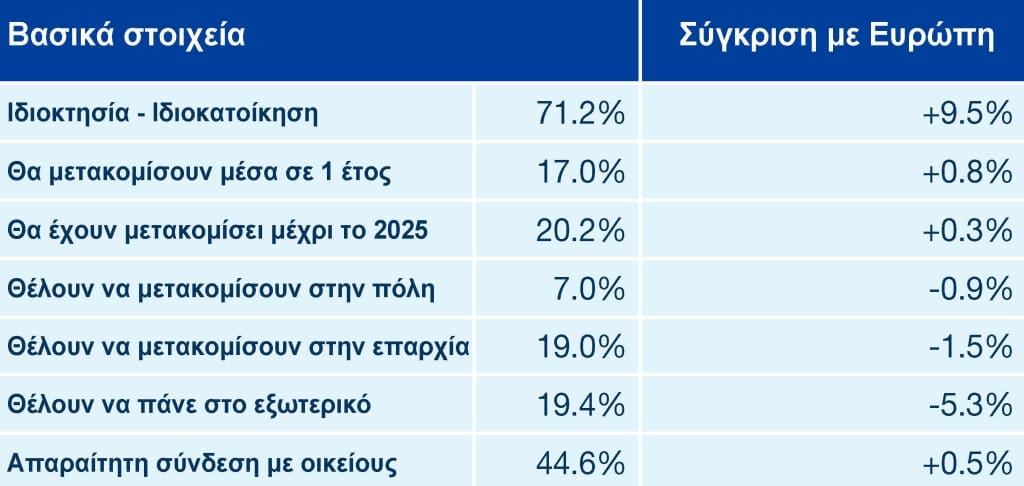 Οι Έλληνες είναι πιστοί κάτοικοι της πόλης, με το 56% να λέει ότι ψάχνει να μείνει σε μια αστική περιοχή. Μόνο η Πολωνία και το Ισραήλ έχουν υψηλότερα ποσοστά πολιτών που επιθυμούν να μείνουν σε μεγάλες πόλεις. Όπως και σε άλλες χώρες, η άμεση πρόσβαση σε δομές υγείας (56%), οι καλύτερες υποδομές (54%) και η πρόσβαση στην εργασία (42%) είναι οι πιο σημαντικές παράμετροι. Επίσης, ένας στους δέκα Έλληνες (10%) θέλει να βρίσκεται σε αστική περιοχή, γιατί παρέχει καλύτερες συνθήκες και προοπτικές για να δημιουργήσει τη δική του επιχείρηση. Αυτό το επιχειρηματικό κίνητρο είναι κάτι που ισχύει γενικώς στις χώρες της Νοτιοανατολικής Ευρώπης, όπως π.χ. στη Βουλγαρία, την Τουρκία και την Κροατία.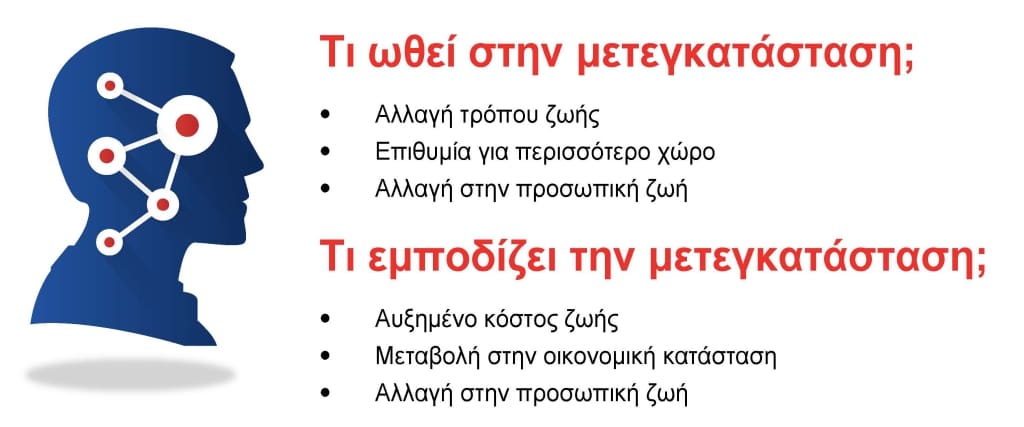 Το να μπορείς να περνάς περισσότερο χρόνο με τους φίλους και την οικογένεια σου είναι πολύ σημαντικό για τον Έλληνα. Ένας στους 10 (10%) είπε ότι άλλαξε γνώμη σχετικά με την αλλαγή κατοικίας – περιοχής γι' αυτόν ακριβώς το λόγο. Το να είσαι κοντά σε φίλους και στην οικογένεια βρίσκεται πολύ ψηλά στη λίστα (40,2%) για το 19% αυτών που σκέφτονται να μετακομίσουν στην επαρχία. Παράλληλα το 74% είπε ότι είναι ελκυστική η ζωή στην επαρχία λόγω των πιο χαλαρών και αργών ρυθμών ζωής, σε σύγκριση με το 45% κατά μέσο όρο που ισχύει στην Ευρώπη.
Παρά τη σχετικά αδύναμη οικονομία της, η Ελλάδα προσελκύει συνεχώς τους Ευρωπαίους που σκοπεύουν να αγοράσουν μια κατοικία στο εξωτερικό, και κατατάσσεται στην 7η θέση μεταξύ όλων των ευρωπαϊκών χωρών, μπροστά από την Ελβετία (8η), την Πορτογαλία (9η), την Ολλανδία (11η) και πολύ πάνω από τη γειτονική Βουλγαρία (18η).
Τάσεις της αγοράς ακινήτων για το 2022